Launched in 2012, Tomorrow's Masters examines the booming market for Masters programmes other than the MBA. Whether it's a Masters in Management or a specialist Masters in finance, accounting, data analytics or something else, demand for these degrees has accelerated in recent years. Many students now choose a pre-experience Masters to boost their success in the graduate labour market, adding valuable qualifications to their undergraduate degree.
Tomorrow's Masters looks at attitudes to decision-making, motivation to study, course content, fees, rankings, careers, marketing and the role of technology.
In the latest study, published in association with EFMD in August 2019, Business Ethics has leapt in popularity as a subject for prospective Masters students, rising from 18th in 2018 to 5th in 2019. The other top five subjects for prospective students were Data Analaytics, Accounting, Finance and Business Law. Not only are subject choices changing, but interest in modes of study is changing with a third of prospective students indicating they would consider MicroMasters as an alternative to a full-time degree.
To take part in the next round of Tomorrow's Masters, which will go live in December 2020/January 2021, and get insights specifically for your business school as well as the global report, get in touch with us at info@carringtoncrisp.com
Target Audiences: prospective Masters students.
Timeline: survey goes live in December 2020/January 2021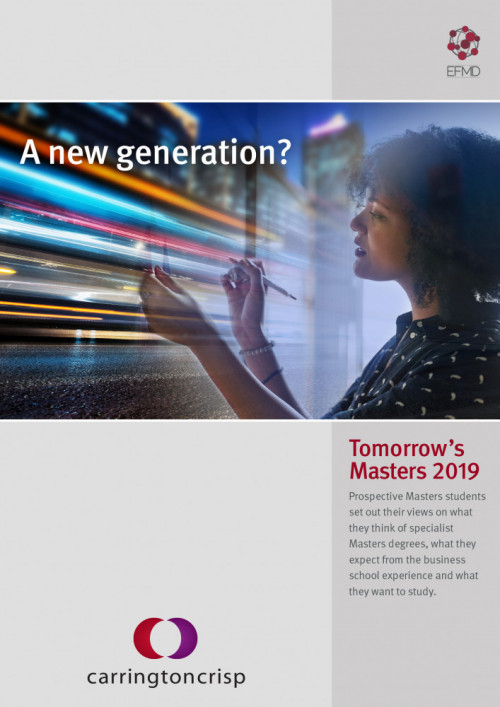 £230